---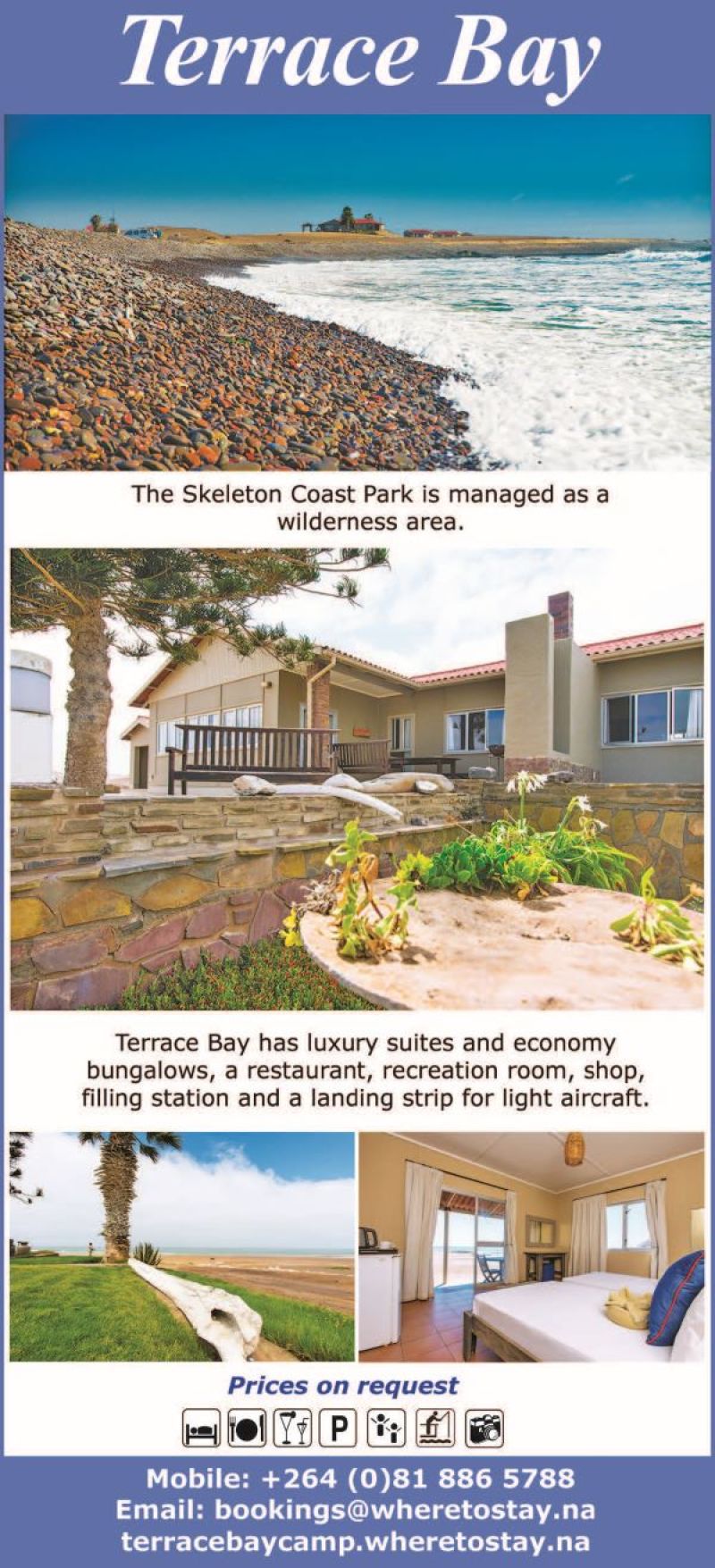 CONTACT:

CATEGORY:
Accommodation: Resort
Terrace Bay Fishermans Heaven.
Group: Namibia Wildlife Resorts


PRICING:
Prices available on request



ZONE:
Zone 61: Skeleton Coast

---
The Skeleton Coast Park is managed as a wilderness area. Terrace Bay has luxury suite and economy bungalows, a restaurant, recreation room, shop, filling station and a landing strip for light aircraft. Mile 108, 72 & Jakkalsputs and Torra Bay (which opens from 01/12 to 31/01) provide camping and caravan sites with communal ablution blocks.
2 Beach Chalets
20 Double Rooms


Die Skelettküste Namibias, berühmt durch ihre rauhe Schönheit, ist ein Paradies für Angler und bietet zwei isolierte Ferienorte, Terrace Bay (ganzjährig geöffnet) mit Bungalows und Restaurant. Torra Bay (geöffnet: 01/12 - 31/01) bietet nur gewöhnliche Camping - & Caravanstände mit gemeinsamen Waschräumen.
Send a query via WhatsApp, then Terrace Bay Resort can reply directly to your device.
Your message has been sent.
Copyright: © Where to Stay.
No parts of this website may be reproduced, stored in any retrieval system or transmitted in any form or by any means without the express, written
permission of the publisher. Extreme care has gone into supplying accurate information, however, no liability can be accepted by Where to Stay for any
errors or omissions that may have occurred.
Tel: +264 (0)61 259 293
Fax: +264 (0)61 259 933
info@wheretostay.na